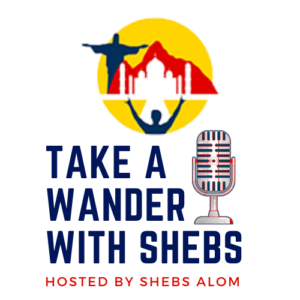 Take a Wander with Shebs showcases some of the top personalities in the tourism industry. 

What distinguishes this podcast from other travel podcasts? Each episode tries to take my guests on a journey to uncover matters they may not have discussed on their platform or in the media. The show's subjects for discussion will cover more than simply travel locations, favourite places or foods, and how to travel efficiently. I go deeper into why and what an individual may have learnt from a trip, or what influence an event or occasion had on their lives whilst travelling. There are no topics that are off-limits. The podcast's goal is to keep listeners guessing and to motivate them to travel, learn, and be better individuals overall. 

Get ready to be inspired and Take a Wander with Shebs!
You can listen to this in audio. Click here for the podcast version.
Click on each thumbnail to watch
Subscribe for my monthly newsletter